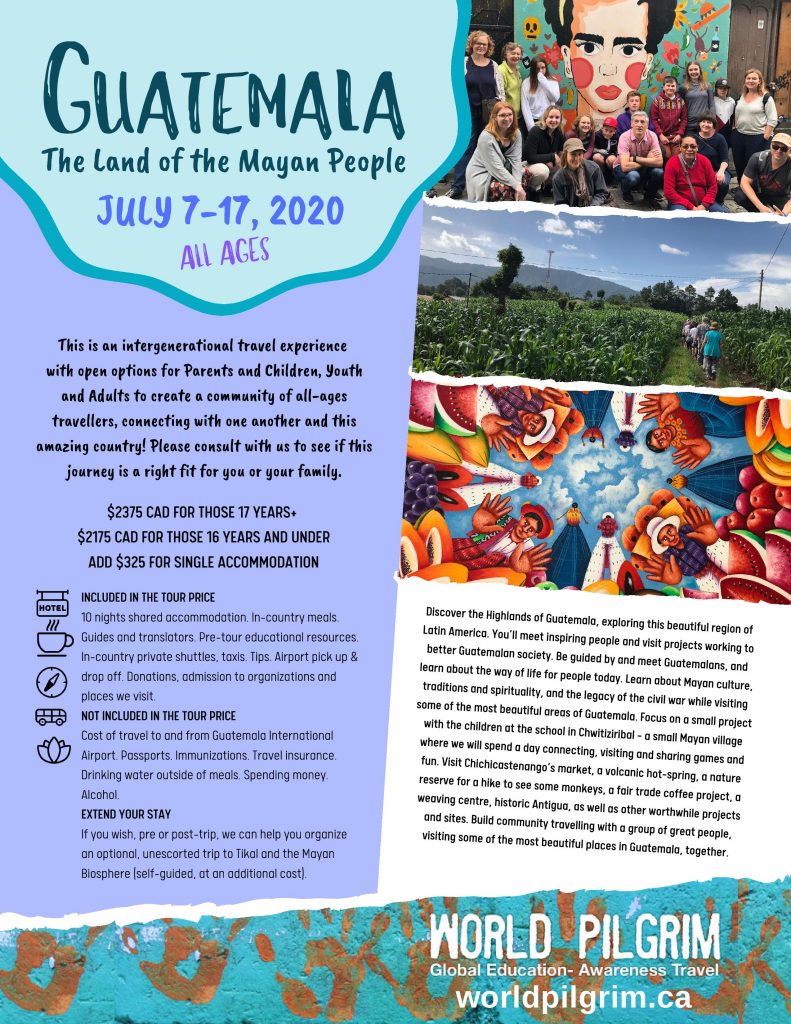 Guatemala: Land of the Mayan People
All Ages Guatemala Tour July 7-17/2020

Leadership: Christina Atkinson, Julio Cochoy, Eduardo Elias, Doris Kizinna
WHAT? Discover the Highlands of Guatemala, exploring this beautiful region of Latin America. You'll meet inspiring people and visit projects working to better Guatemalan Society. You'll learn about Mayan culture, traditions and spirituality, meeting people and making connections. Be guided by and meet Guatemalans listening to their stories and struggles. You'll spend time learning about the history of the 36 year civil war and genocide and it's effects on Guatemala today. Visit the school in Chwitiziribal and the village meeting the families and students at the school. Visit Chichicastenango's market, a volcanic hot-spring to relax, a fair trade coffee project, a weaving centre and historic Antigua, as well as other worthwhile projects and sites. Build community when travelling with a group of great people, visiting some of the most beautiful places in Guatemala.
WHERE?
Travel by air to Guatemala City from your location where we embark on our journey spending some days in Antigua and Guatemala City, around Lake Atitlan, Chichicastenango, Chwitziribal, Quezaltenango, and in Santa Lucia Utitlan. If you'd like to visit other parts of Guatemala or Tikal, please let us know and we can help you arrange either before or after this group.Post-trip, we can help you organize an optional trip unescorted to Tikal and the Mayan Biosphere. (at an additional cost and self guided).
The registration fee includes: all organization of the program, resources to help you prepare for the journey (readings, suggested films etc), all in country travel costs including pickup and drop off at airport, 10 nights accommodation (shared), all in country meals during those 11 days, fully escorted tour by two Canadian guides and Guatemala guides, in country transportation with private small bus and driver, translation as required for all talks, tips, all programme expenses such as entrance fees, donations to all organizations we visit made on behalf of the group, and all administration of the tour. This does not include airfare or personal travel insurance, spending money, the cost of your passport,
any immunizations you may need, and special activities you may choose to do like zip-lining etc.
PRE and POST TRIP GROUP BUILDING: We will have an opportunity to prepare for the journey together and as a travelling group by connecting online and having at least one orientation meeting before the trip. You will be sent out emails and a resource package that you are asked to read with important info for you to have. There will also be a reading list that you may wish to use. Following the tour we'd like to have a reunion meeting to share time together and reflect on the experience. These meetings will be in greater Vancouver and if it's possible for you, we'd love you to be a part of this.
WHY? Guatemala is a country in economic and social crisis. After over 36 years of military rule and civil war which ended in 1996, Guatemalans are now rebuilding their lives and strengthening the democratic process. They face enormous challenges as poverty and years of isolation due to war have left a toll, violence is rampant in the society, and natural disasters occur. Solidarity with international organizations and individuals can make a big difference in this struggle. When asked we can best support their struggle, the answer is always, "Bear witness to what is happening in Guatemala and tell others". Come and experience this land of the eternal green with us!
For more information and an application form please contact the trip coordinator
Doris Kizinna, 604.341.2724 worldpilgrims@gmail.com www.worldpilgrim.ca
Doris has been coordinating travel groups to Guatemala, Cuba and India for the past 15 years and is the founder of World Pilgrim. She is working on her Spanish and considers accompanying people on global education experiences a great priviledge of her life. She has traveled extensively in Guatemala and knows the country well. Julio Cochoy is co-leading this tour and is Maya-Quiche from Santa Lucia Utitlan. He is a human rights activist and 10 years ago started a healing process for his community in gathering the historical record of the atrocities that happened there during the Genocide through the Maya Skills Project. Eduardo Elias is our wonderful translator and friend who will accompany part of the trip.
REGISTRATION FORM for this Tour CLICK HERE: Guatemala 2019 Easter Open Tour
INFORMATION and ITINERARY POSTER for this Tour CLICK HERE: Guatemala 2019 Easter Open Tour
Your guides: Julio, Doris and Eduardo – looking forward to travelling with you!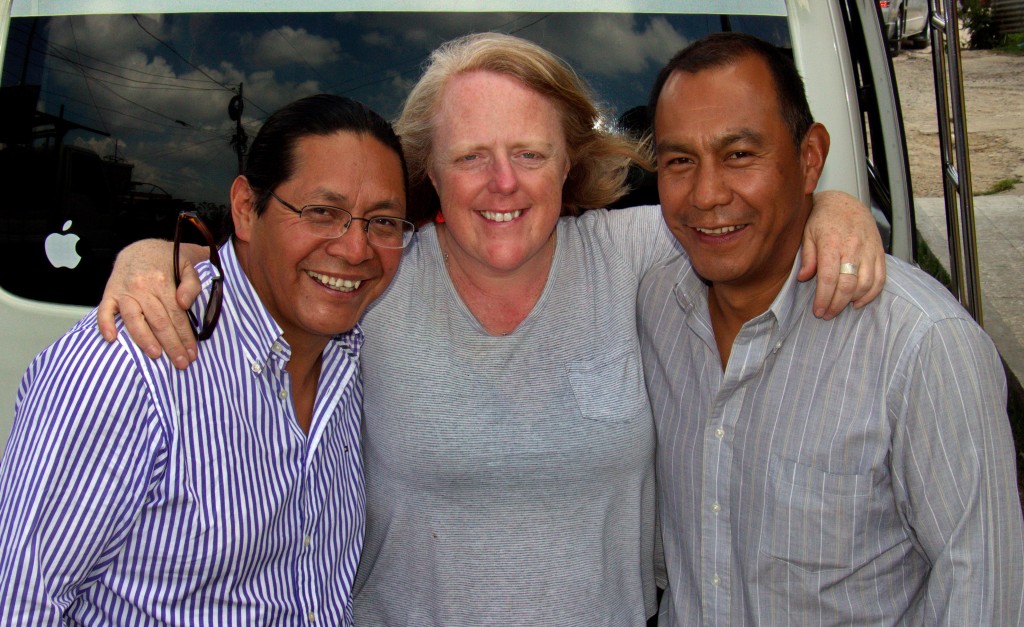 Tikal Tour Option: There is an option if you wish to stay on for 2 more nights to experience an overnight trip to TIKAL, an ancient mayan site in northern Guatemala. The costs for this optional tour are extra and can be added on to your costs. In the past people have paid app. $600 USD for a one hour flight return, shuttle to the airport, shuttle to Tikal, a guided tour through the ruins, an overnight in the park at the Jungle Lodge, sunrise on temple 4 in the park, tour of flores and boat trip around Flores and shuttle back to airport. Amazing! You would also have an additional cost of an extra night in Guatemala the day before you fly home and meals. Let us know if you are interested in this add-on option.
Easter display in Antigua Guatemala 2015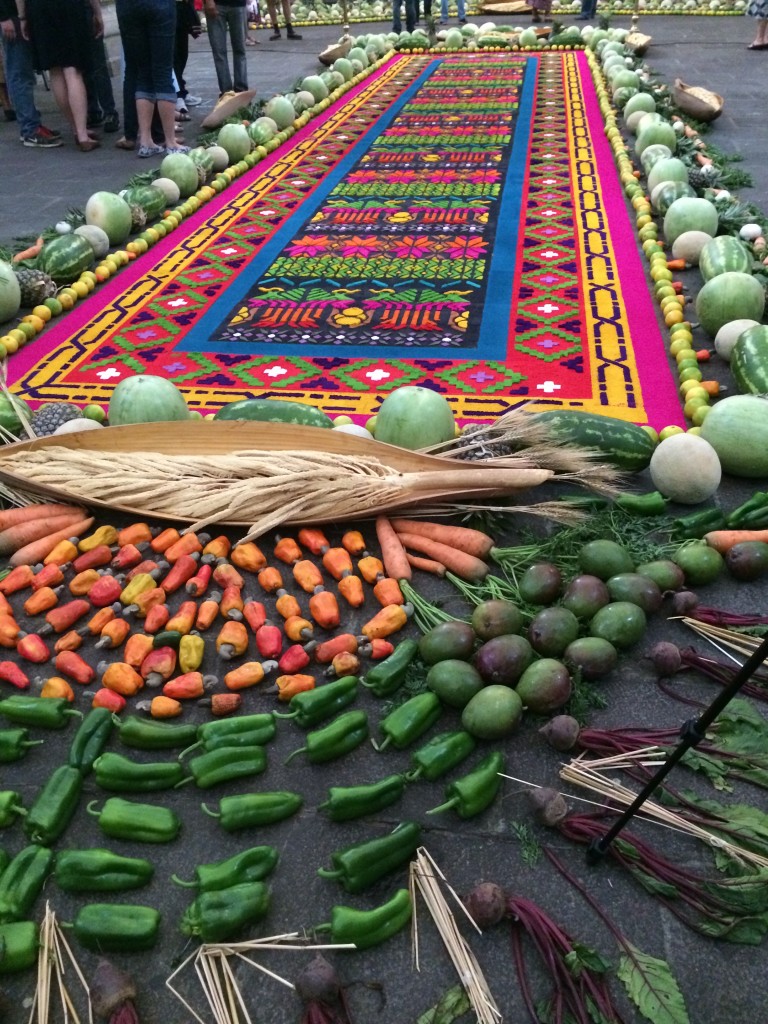 Lent Processions during Holy Week 2015