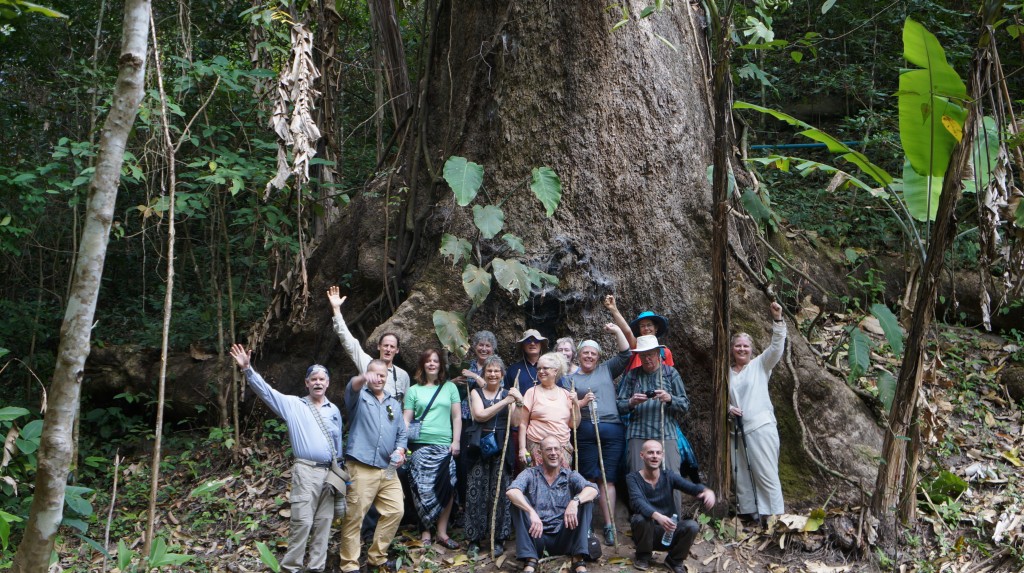 Reviews of World Pilgrim:
If you would like to speak to someone who has taken a journey with us before please let us know and we can connect you with some of our references. worldpilgrims@gmail.com
Some words from past participants:
"We just finished the Day of the Dead Mexico trip with Doris and Julio. It was a fabulous experience. Once again Doris and Julio provided an outstanding cultural and educational experience. Their relaxed leadership style gave a sense of fun and adventure that made the trip enjoyable for all. We have both done trips with Doris and Julio in the past. The Day of the Dead was definitely a unique experience."
Michele (Winnipeg) & Linda (London, Ontario)
"World Pilgrim offers a passage to worlds within worlds, where one's travels gets beyond a tourist event, but is an invitation to experience a culture in ways not otherwise be possible on your own. My trip to Thailand was unforgettable and the Hill tribes of Northern Thailand of the Hmong and Shan people are forever in my heart. Our warm and skillful guides; Doris and Ray provided not only pathways and openings, but also ease, hospitality, laughter and opportunity to traverse the depths. Our entire group flourished in their presence and in the wonder of Thailand. Utterly amazing experience!" Celeste Snowber, PhD
"A trip of a lifetime… we were thoughtfully guided as we visited this beautiful country, listened to painful stories, interacted at the markets, enjoyed delicious food… a fabulous combination of deep transformation and fun! Thank you Doris and Julio!" Sabine Harpe, Vancouver
"Our group's ten-day tour of the central highlands of Guatemala was filled with enough meaningful activity to fill a tour three times as long. We experienced many heart-warming activities carried out by groups of indigenous Mayan people who are still trying to recover from decades of civil war. We ate meals at organic farms, we visited daycare centres for children and seniors, we were entertained by traditional Mayan dancers and musicians, we went by boat across beautiful Lake Atitlan, surrounded by volcanos, to visit a coffee plantation, we toured a nature reserve and made friends with monkeys and butterflies, and that was just the first 4 days! I don't know when we slept!" Roberto, Vancouver, BC
"I traveled with World Pilgrim twice to Guatemala and Thailand and enjoyed both group sizes, small well organized tours. A nice way to travel with people with the same interest and to engage with the local people to hear their stories while visiting their country." Yvonne van Boekel Ontario
"Visiting the hill tribe village Mae Sa Mai, it was heart warming to hear Win say that he could make more money if he lived in the city but he wouldn't have the happiness. A lasting memory." Alice
"We (my sister and I) had a wonderful time traveling with World Pilgrim to Guatemala. It was everything we had hoped it would be: great lodgings, good food and many unforgettable opportunities to meet and spend time with local people. We couldn't have had a better or more knowledgeable tour guide. in Doris. Her passion for the country and people shines through." Penny
"Wow! I would like to say we had another fantastic experience with World Pilgrims. Another fantastic group to share a wonderful time with everything laid out for us. Great accommodation and terrific meals. Great planning and consideration without the worries!" Dean Butler
"Traveling with World Pilgrims was a an incredibly rich experience (cultural, political, historical, musical, etc.), so much so that time seemed to stretch. Iit seemed impossible that we had experienced when debriefing after the first few days, and yet we had just begun. We found it so satisfying in Cuba that we also did the Guatemala trip. Did I mention good food, lodgings, transportation and company too. VERY much recommended." Rick (age 79)
"World Pilgrim is my first choice in adventure travel . Doris has an intimate knowledge of the people and culture of each country of focus and engages each traveller in their own personal spiritual journey and ways in which to work with others on this beautiful planet." Judith Ann
"I can't thank Doris enough for putting together such an interesting trip in which we met people from every cross section of Cuban life, from Political Party Members to dissidents, doctors, school teachers, farmers, retired people, university students, artists, dancers … .and more. There's no better way to get to know as much about a country as we did in a week's time. Doris was well connected and able to set up some extraordinary meetings for our group. In addition, she has an extremely calm demeanor, even in the chaos of Cuba, which helped create and foster bonds among all the group participants and all the Cubans we met. I can highly recommend traveling with Doris and am considering another trip next year." V.Errico, New York City, NY
"On the trip I took with Doris to Guatemala I was really impressed with the way she personalized experiences, ensuring that each person's needs were attended to. She has spent years building awareness and relationship with communities in Guatemala, so that those who travel with her are assured of wonderful opportunities for learning and connecting. My anxiety at western travelers taking advantage of indigenous communities evaporated as I experienced the mutual respect with which Doris and her friends in local communities held one another." D.Scorer, Bowen Island, BC
"Our pilgrimage to Guatemala with Doris was an outstanding experience. From our first gathering before the trip to our final debriefing we felt welcome and cared for. During our time in Guatemala we benefited from her sensitivity to the people and situations we visited as well as her understanding of their hope for the future. We appreciated the group reflection times and the challenge to consider what difference our experience would make in the way we lived at home. We continue to benefit from the skills and integrity she bought to the trip." David & Marcia Smith, Abbotsford, B.C.
"Loved my traveling with you and Adpurkh through India, so impressed with your handling the organziation and schedule, changes of itinerary, how you connected us with the people, for the amount of time we had you were really able to squeeze in as much as possible , provide lots of information with the help of great guides, just really delighted I took this trip with you !!! Thank you so much!" Simrit, Los Angeles