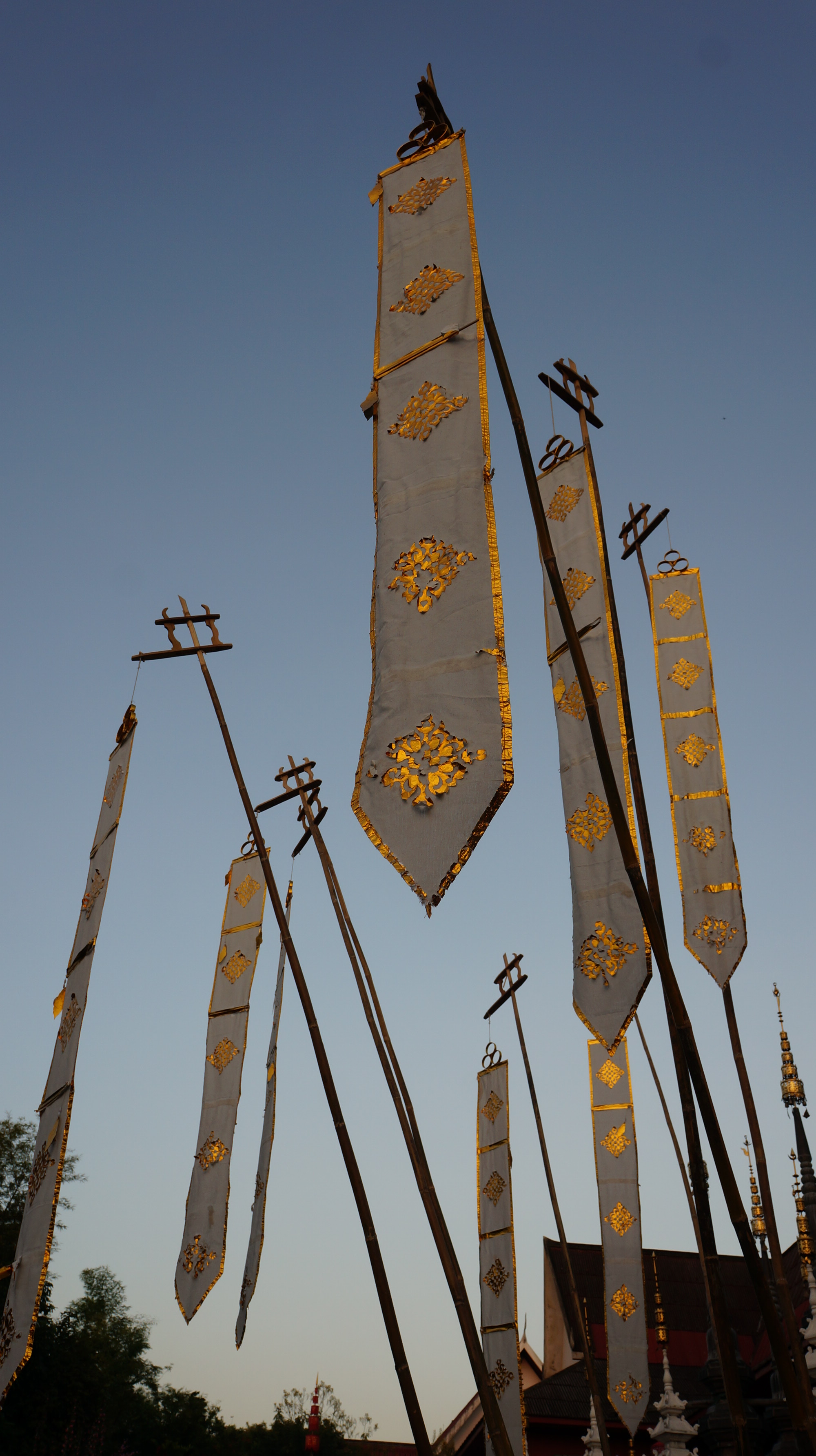 Exotic Thailand: Land of Smiles
January 27 – February 10/2023
Cost: Shared Accommodation $3940, Single Accommodation $4675 (Canadian Funds includes taxes)
Leadership: Ray McGinnis and Doris Kizinna
Spend 15 days exploring northern Thailand, around Chiang Mai, Pai and Sukhothai. We'll visit humanitarian organizations in Thailand like the Thai Freedom House working with Burmese Refugees. We'll visit an Elephant Refuge, Hill Tribes of indigenous people where we'll spend one night with families there. We'll learn about a weaving centre reclaiming ancient tye-dying and weaving practices, and see many beautiful temples. We'll learn the culinary delights of Thai food and attend a cooking school on a farm. We'll encounter several ethnic peoples in scenic Pai, and explore hot springs and waterfalls. We'll visit the ancient Thai capital of Sukhothai, gaze at lotus flower ponds and marvel at sculptures and temples. We'll also set aside some free time throughout the tour. We'll have time for a massage everyday if you wish, and spend some time reflecting on the experience with some reflecting writing sessions with co-leader and poet, Ray McGinnis.
The price for the tour includes accommodation, meals (14 Breakfasts, 12 Lunches, 14 Dinners), guides, courses, in country shuttles, taxi's, train trips, one flight between Sukhothai and Bangkok. Tips, pickup at the airport in Chiang Mai and donations to all the organizations we will visit. Not included: spending money, alcohol and water other than at meals, passports and immunizations. The flight costs to Thailand are your own responsibility; however, we will let you know which flight we recommend. You will fly into Chiang Mai, and we have some options on how you may best do that. You will need to make arrangements for your return home from the Bangkok airport, which we can also help you with, unless you plan to extend your stay in Thailand or elsewhere in Southeast Asia. The tour requires a minimum of 10 participants to run and is designed for those aged 18 and up. You are welcome to stay longer or arrive earlier and travel on your own as you wish. We can give you advice on the best places to go.
This will be Ray and Doris' fourth guided trip to Thailand with World Pilgrim. Doris is the founder of World Pilgrim Travels and has been leading Pilgrimages like this one since 1997 to countries like Cuba, Guatemala, Bali, Mexico and India. Ray has travelled to Thailand on ten occasions, and to Laos once. He is eager to share this love of this special region in Southeast Asia with others. He is a poet, a published author and a teacher of writing and poetry worldwide. World Pilgrim has been building up networks of friends in countries like India, Guatemala, Cuba, Bali, and Thailand where they work to create meaningful travel that makes a difference to the communities visited, and for the travelers themselves. Please be in touch as you ponder whether this journey is for you.
For questions about the tour and to assess whether this trip is for you please contact Thailand tour guides:
Doris: worldpilgrims@gmail.com 604.341.2724
Ray: rmcgin@shaw.ca 604.408.4457
"World Pilgrim offers a passage to worlds within worlds, where one's travels gets beyond a tourist event, but is an invitation to experience a culture in ways not otherwise be possible on your own. My trip to Thailand was unforgettable and the Hill tribes of Northern Thailand of the Hmong and Shan people are forever in my heart. Our warm and skillful guides; Doris and Ray provided not only pathways and openings, but also ease, hospitality, laughter and opportunity to traverse the depths. Our entire group flourished in their presence and in the wonder of Thailand. Utterly amazing experience!"
Celeste Snowber, PhD
Date
Itinerary for Thailand 2023 (subject to small changes)
Travel Days depending on departure location, arrival anytime on Jan. 27 or earlier with your own arrangements
Fri, Jan. 27 | Day 1
CHIANG MAI: Group arrival in Chiang Mai, Airport pickups Settle in, lunch, walk and rest 5:00 pm Orientation Walk around Chiang Mai 6:15 pm gather for Evening orientation and dinner in Old City Accommodation in Chiang Mai: Villa Sirilanna Hotel
Sat, Jan. 28 | Day 2
CHIANG MAI: 8:00 am Breakfast 9:00 am Depart by shuttle to visit Studio Naenna for weaving demonstration and tie-dye/indigo workshop https://studio-naenna.com/ 1:00 pm Lunch visit to: Thai Freedom House http://thaifreedomhouse.org/ After lunch visit Doi Suthep Temple and view over the city Dinner
Sun, Jan. 29 | Day 3
CHIANG MAI: 7:30 am Breakfast Day at the Thai Farm Cooking School www.thaifarmcooking.net Lunch at school 4:00 pm Back to hotel
Starting at 4 pm until 9 pm Sunday Walking Street in Chiang Mai. Snacks at Walking Street for Dinner.
Mon, Jan. 30 | Day 4
MAE SA MAI: 8:00 am Breakfast 9:00 am departure for Home-stay in Mae Sa. Pack your bag! Spend the night in simplicity with indigenous hill tribe and have dinner with families in the village. Evening storytelling around the campfire. Overnight MAE SA MAI with families in small groups in shared rooms.
Tues, Jan. 31 | Day 5
MAE SA MAI/CHIANG MAI: Morning breakfast with Home-stay, hike through the hills/community, lunch and departure. On way back to Chiang Mai stop at Hot Springs for soaking/massage. Travel back to Chiang Mai for dinner. Dinner and Freetime
Wed, Feb. 1 | Day 6
CHIANG MAI: Breakfast Morning: Visit the Chiang Mai Women's Prison Massage Centre Wat visits: Wat Chai Phra Kiat & Wat Thung Yu Lunch at the Chiang Mai Women's Prison Café, walk back to Hotel. Free afternoon or trip Silk Factory, Umbrella Factory, Jewellery Factory. 6:30 pm Dinner
Thurs, Feb. 2 | Day 7
CHIANG MAI: 7:00 am Breakfast 8:00 am pickup to Visit Elephant Nature Park, lunch included. https://www.elephantnaturepark.org/ return to Chiang Mai by 5:30 p.m. Dinner.
Fri, Feb. 3| Day 8
CHIANG MAI Breakfast and day of freetime in Chiang Mai: shopping, resting, massage, visiting temples. Lunch on your own. Last night in Chiang Mai.
Sat, Feb. 4 | Day 9
PAI/LAMPANG Depart after breakfast from Chiang Mai. Stop at Khan Hue Keaw View Point on road to Pai. Left turn off highway to visit Pai Taradon Hot Spring and stay for a few hours. Lunch there. Continue driving to Pai and check in at accommodation. Afternoon Visit to the White Buddha at Was Phra That Mae Yen. Dinner in Pai and explore night scene in town. Accommodation: Pai Vieng Fah Resort http://www.paiviengfah.com/
Sun, Feb. 5 |Day 10
PAI Breakfast Visit Pai Canyon and Pai Waterfall, enjoy Lunch. Afternoon freetime or Visit Koh Kuo So Bamboo Bridge and Tham Lod Caves. Dinner together.
Mon, Feb. 6 |Day 11
PAI Breakfast. One-day workshop at Seedlings Foundation: Options: i) Bee Keeping, ii) Permaculture & Cooking Class, iii) Bamboo & mud shack building, or iv) aquaponic and solar workshop http://seedlings-foundation.org/workshop/ Lunch and afternoon visit to Santichon Chinese-ethnic Village Freetime Dinner Evening Pai Walking Street, shopping etc.
Tues, Feb. 7 | Day 12
PAI/LAMPANG: Leave Pai after breakfast and stop at The Pai Memorial Bridge Stop in Chiang Mai or nearby for lunch and drive on to Lampang. Check-in accommodation, horse carriage ride through town (this town is famous for their horses), dinner and freetime. Overnight: Villa Rassada Nakorn Lampang Hotel.
Wed, Feb. 8 | Day 13
LAMPANG/SUKOTHAI Freetime to explore Lampang in the morning. Lunch together. Drive to Sukhothai and arrive at accommodation in Sukhothai Freetime and dinner and swim at Hotel. Overnight: Le Charme Sukothai Hotel www.lecharmesukhothai.com
Thurs, Feb. 9 | Day 14
SUKOTHAI Breakfast Day in ancient Siamese capitol of Sukhothai |Cycling (if you wish) to ancient sites & museum with guide. Lunch on your own Afternoon freetime Dinner together for closing celebration for the trip
Fri, Feb. 10/Day 15
Morning flight together to Bangkok with your own plans to stay in Bangkok or continue the journey home or in SE Asia.