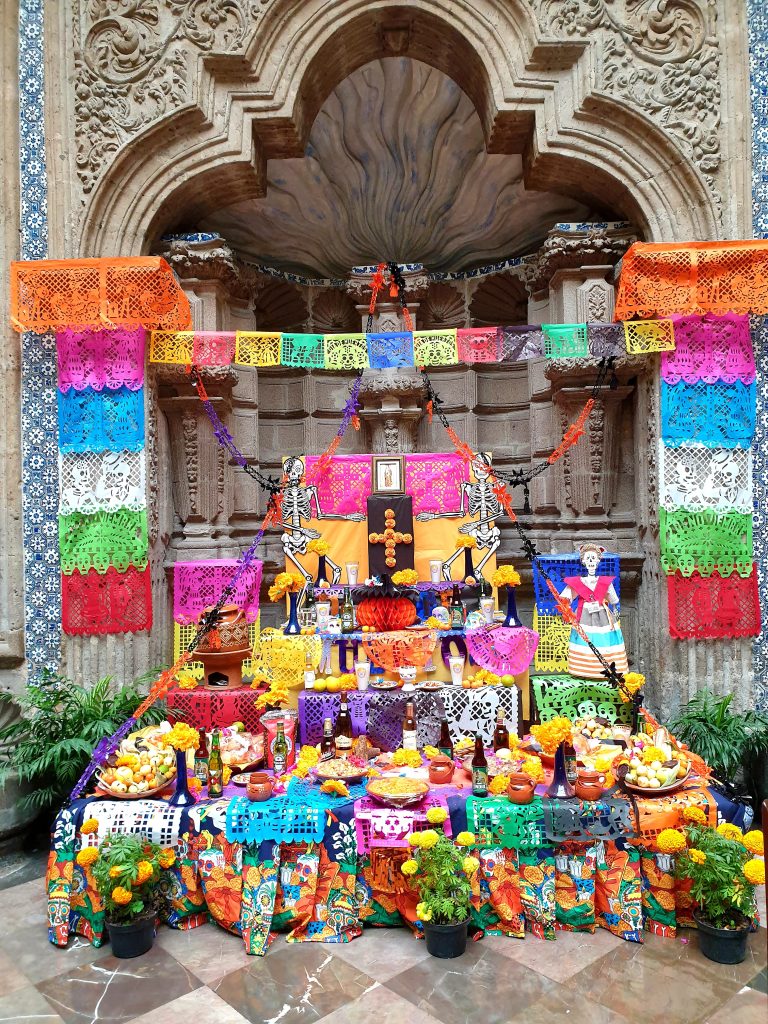 October 22 – November 3/2023
Cost: $3795 Shared accommodation, $4850 Single accommodation (Canadian funds, includes GST)
*prices are high for single accommodation as hotel rooms are at a premium in Oaxaca during day of the dead.
Experience Puebla, Oaxaca and Mexico City on our Dia de los Muertos (Day of the Dead) Tour
**arrival for this tour is Mexico City and departure is from Oaxaca**
With guides: Julio Cochoy and Doris Kizinna
Experience Puebla, Oaxaca and Mexico City on our second Dia de los Muertos Tour with World Pilgrim. We begin the tour in Mexico City (Oct 22-25, 5 nights) where we will stay in the Centro Historico and visit museums, the Zocalo, the Ballet Folklorico, artisan markets, Garibaldi Square for the Mariachi, Frida Kahlo's home museum, and enjoy many beautiful sites in one of the worlds largest cities. Then we head to Puebla (Oct. 26-28, 3 nights) famous for it's architecture and production of pottery and tile, Puebla holds one of the best cuisines in Mexico. We will spend 3 nights there on a walking tour, getting to know the pottery and cuisine of Puebla! Then we travel further south to beautiful Oaxaca (Oct. 29-Nov. 2, 5 nights). Dia de los Muertos (Day of the Dead) is alive and vibrant in Mexico and especially in the small city of Oaxaca melding the pre-hispanic traditions with Catholic traditions in a an expression of life, death, and remembering that is full of colour and beauty. The days of Nov. 1 and 2 are a time to honor deceased loved ones all over Mexico and in Oaxaca is coincides with a Festival on the Plaza de Los Muertos. Many markets are set up with items needed to decorate the graves of loved ones and share in the special foods of the season. Marigolds, chocolate, sugar, candles, skulls, art. Families will buy their items in the markets and then in their homes will build an altar to honor those in their families who have died. Processions to honor the souls take place on the days of Oct. 31-Nov. 2. We will visit Oaxaca during these special days as well as some of the sites outside of Oaxaca: Monte Alban (archaeological site), the textile village of Teotitlan, a Mezcal factory and one of the largest trees in the world. We will spend time with a family in Teotitlan learning about their traditions around Day of the Dead and helping them build their altar to honor those who have passed on. On Nov. 3 you will fly from Oaxaca to your home, or further destinations in Mexico. Throughout the journey we will enjoy the wonderful food of Oaxaca and Mexico.
Itinerary: (subject to shifts and changes)
Sun, Oct. 22      Fly into Mexico City from your location, transport to hotel either with us picking you up or by taxi and we will stay overnight at Hotel Catedral, in Centro Historico, Mexico City.  Freetime during day depending on arrival and Dinner and Orientation meeting to begin. Hotel Catedral https://www.hotelcatedral.com/     Meals included:  Dinner
Mon, Oct. 23 Mexico City: After breakfast at the Hotel explore the Zocalo, one of the largest main squares on earth. Visit the Catholic National Cathedral and the Diego Rivera Murals in the Palacio Nacional. Late Lunch on your own. 3pm Afternoon visit the Museo de Arte Popular and walk to the Mercado de Artesanias La Ciudadela. Dinner together. Meals included: Breakfast, Dinner.
Tues, Oct. 24          Mexico City:  Trip to the Museum of Anthropology in Chapultapec Park, lunch together at the museum cafe, then afternoon free to walk through the park or see another site, 7 pm dinner at Café Tacuba.  Optional Mariachi at Garabaldi Square.    Meals included:  Breakfast, Lunch, Dinner
Wed, Oct. 25         Mexico City:  Visit to Coyacan and Frida Kahlo's famous blue house museum, lunch on the main square in Coyacan on your own, afternoon freetime to continue to explore Coyacan and taxi back to our hotel on your own, meet for dinner and attend the Ballet Folklorico evening show at Palacio Bellas Artes.   Meals included:  Breakfast, Dinner
Thurs, Oct. 26 Breakfast at Hotel, load up our bus and drive to the city of Puebla (2.5 hours). Settle into hotel and Lunch out. Puebla is famous for its architecture, mini orientation tour of Puebla with stops at the Puebla Cathedral, the Secret Convent of Santa Monica and Candy Street. You'll have time to rest in the afternoon or wander the beautiful centro on your own. Dinner together. Hotel: https://elsueno-hotel.com/neo/ Meals included: Breakfast, Lunch, Dinner
Fri, Oct. 27 Puebla day: We will pay a visit to a Uriarte Talavera Pottery https://www.uriartetalavera.com.mx/, which makes the famous colorful Mexican pottery. Learn about the art tradition. Visit the Craft Market. Lunch together and an afternoon to explore markets, churches, and walk through Puebla and freetime. Dinner at Restaurant El Mural de los Poblanos, slow food Pueblo style. http://elmuraldelospoblanos.com/ Meals included: Breakfast, Lunch, Dinner
Sat, Oct. 28    Puebla day: Breakfast at Hotel, visit together the nearby town of Cholula. Lunch out together, afternoon freetime to continue to explore Puebla. Meals included: Breakfast, Lunch, Dinner
Sun, Oct. 29 Breakfast at hotel, pack up and load up our bus and drive to Oaxaca (4 hours). Lunch upon arrival in Oaxaca. Settle into Hotel. Afternoon rest and meet to walk to the main square and discover the beauty of the life of the parque central and dinner out. Meals included: Breakfast, Lunch, Dinner Hotel Oaxaca Dorado http://www.hoteloaxacadorado.com/
Mon, Oct. 30:     Breakfast at Hotel, walking tour of Oaxaca, visit various sites in Oaxaca.  Lunch on your own.   Get a sense of Oaxaca.  3:00 pm Afternoon cooking class.  Meals included:  Breakfast, Dinner at cooking school
Tues, Oct. 31 Breakfast at Hotel. Depart in our van for a day tour. First stop to visit: Arbol del Tule, 2000 year old tree and the widest tree in the world. Drive to Matatlan to visit a Palenque (Distillery) so we can learn about the process of Mezcal making and tasting. Drive to Teotitlan del Valle and have lunch at Tierra Antigua Restaurant. We will visit Huella Carmin, an amazing project where the Davies family have put together all of their passion and soul for the handicraft of carpet making. We will visit and have a tour. https://huellacarmin.com/es/ Travel back to Oaxaca and freetime. Dinner on your own. Freetime in evening to visit cemetery and witness all the preparations for Dia de los Muertos. Meals included: Breakfast, Lunch.
Wed, Nov. 1 November 1st is the most traditional and culturally fascinating day of the Day of the Dead celebrations. On this day families prepare altars for their deceased loved ones, which they display at homes and over graves at cemeteries. On this Day We will visit Teotitlan del Valle again and visit the family of Hermanas Gonzales. We will go with them to the traditional market in the village and get some flowers and other altar supplies. After setting up part of their altar we will have lunch at the family home, traditional tamales de mole with a glass of hot traditional chocolate and bread. We will also go and visit the cemeteries and bring some marigolds to decorate the main altar in the cemetery. The family of Hermanas González also can show you a selection of rugs and bags that they make and explain how they do it. After lunch we will return to Oaxaca and you will have freetime to take part in the Day of the Dead Festival happening throughout Oaxaca. Dinner on your own while exploring the Festival in downtown Oaxaca. Meals included: Breakfast, Lunch.
Wed, Nov. 2       Breakfast at Hotel, morning visit to Monte Alban, spectacular mountain top archeological temples.   Monte Alban was inhabited for 1,500 years by the Olmec, Zapotec and Mixtec peoples, and is an outstanding example of a pre-Columbian ceremonial centre.   2 hour walking tour at Monte Alban with a guide.   After Monte Alban we will visit Vives Verde, an incredible cactus garden.  Lunch stop and visit to the village of Arrazola where the carved wood figures "Alebrijes" are made.  We will visit the home of the founder of the craft and chat with his son.   Head back to Oaxaca, freetime to explore more of the Dia de los Muertos Festival, closing dinner together, evening wandering through the city.   Meals included:  Breakfast, Lunch, Dinner.
Thurs, Nov. 3 Breakfast at Hotel and departures, stay on in Mexico or fly home from Oaxaca. Last meal of the tour will be breakfast depending on your flight time. Buen viaje! Meals included: Breakfast
Be sure to book your flight into Mexico City and departing from Oaxaca.   
Included in the tour:
Airport pickup in Mexico City, fully guided and escorted tour, meals indicated on the itinerary above: All meals other than 4 Lunches and 2 Dinners, 1 non-alcoholic beverage/beer per meal, water at meals, all in-country transport by private bus with professional driver from Mexico City to Puebla and then Oaxaca, all courses and tours and entrance fees, ticket to Ballet Folklorico, tips.
Not included in the tour:
Your flight to Mexico City and return from Oaxaca, taxi to airport for your return flight home, 4 lunches and 2 Dinners out on your own, health insurance, passports, immunizations, drinking water outside of meal times, extra tips for our guides and hotel staff if you feel service was exceptional you are welcome to share your gratitude in the form of an extra tip, spa treatments, and alcoholic beverages.
More info:
You will fly into Mexico City (MEX) by Oct. 22 when the tour starts and depending on your location we will recommend a time frame for you to arrive. If you arrive at another time or a day earlier it is your responsibility to get to our Hotel on Oct. 22nd. You will depart from Oaxaca on Nov. 3 (or later) If you wish to stay in Mexico longer we can make some recommendations. The tour has a maximum number of 12 participants and 2 leaders, so a small group of 14 total. People age 16 and up are welcome to participate in this tour. We require 10 participants for this tour to run.