Note change of date due to covid 19!
We've postponed this tour until 2021.
All Ages Guatemala Tour July 6 – 16/2021
Leadership: Christina Atkinson, Julio Cochoy, Eduardo Elias, Doris Kizinna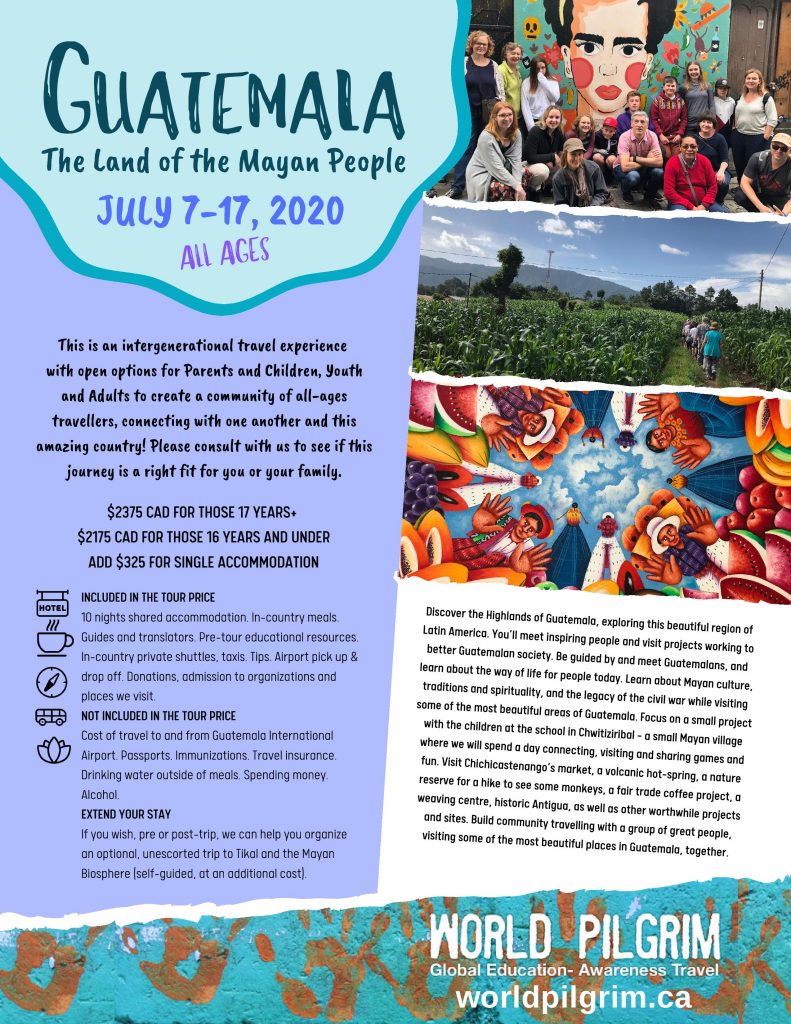 For more information please contact the trip coordinator:
Doris Kizinna, 604.341.2724 worldpilgrims@gmail.com
Tikal Tour Option: There is an option if you wish to stay on for 2 more nights to experience an overnight trip to TIKAL, an ancient mayan site in northern Guatemala. The costs for this optional tour are extra and can be added on to your costs. In the past people have paid app. $600 USD for a one hour flight return, shuttle to the airport, shuttle to Tikal, a guided tour through the ruins, an overnight in the park at the Jungle Lodge, sunrise on temple 4 in the park, tour of flores and boat trip around Flores and shuttle back to airport. Amazing! You would also have an additional cost of an extra night in Guatemala the day before you fly home and meals. Let us know if you are interested in this add-on option.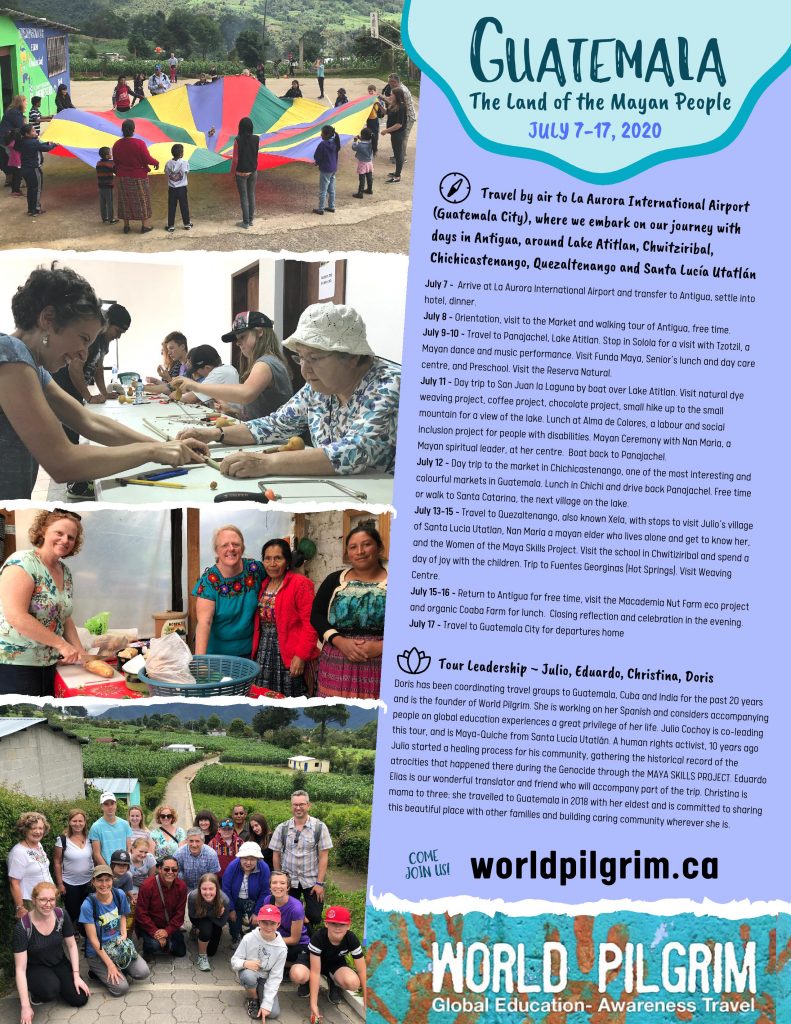 Updated Schedule for the Tour:
All ages Guatemala: The Land of the Mayan People
July 6-16/2021
Please note that while this itinerary is mostly final, there could be some shifts and changes.
Tuesday, July 6 ANTIGUA:
Arrivals to Guatemala City, settle into hotel, dinner and rest. Hotel Casa del Parque: https://www.hotelcasadelparque.com/
Wednesday, July 7: ANTIGUA: Breakfast at Hotel with Orientation. Scavenger Hunt through Antigua to get to know the city. Lunch at Coaba Farms. Visit to the Hermano Pedro hospital for a tour and to drop off donations. Afternoon rest and pool time. Optional trip to the Antigua market in late afternoon. Dinner and overnight at Hotel Casa del Parque. https://www.caobafarms.com/
Thursday, July 8: QUETZALTENANGO: Breakfast in Antigua at hotel and drive to Santa Lucia Utatlan (Julio's community) visit Julio's home, have lunch with Julio's family. Go for a hike to the viewpoint of the lake. Visit a mayan elder, Nan Maria and have a look into her life. Arrive to Xela in the late afternoon. Dinner and Overnight at Hotel Posada Catedral. http://www.hotelposadacatedral.com/
Friday, July 9: CHWITZIRIBAL/XELA: Breakfast at Hotel. Visit the Chwitiziribal Community and the school, share a Day of Joy for the students involving crafts, games, snacks. Afternoon walk through Xela to the market and a walking tour with Eduardo, hot chocolate, parquet central, language school. Dinner and Overnight in Xela. Hotel Posada Catedral.
Saturday, July 10: XELA/FUENTES GEORGINAS/CHICHICASTENANGO: Breakfast at the Hotel, morning visit Trama Textiles Weaving Cooperative, learn about how the cooperative was formed right after the civil war, weaving demonstration and buy some of their beautiful work, lunch and afternoon trip to Fuentes Georginas (Hot Springs). Mid afternoon depart for Chichicastenango. Overnight at the Mayan Inn in Chichicastenango http://www.mayaninn.com.gt/ http://www.fuentesgeorginas.com/ http://tramatextiles.org/
Sunday, July 11: CHICHICASTENANGO/PANAJACHEL: Breakfast at the Hotel, market day in Chichicastenango. Lunch in chichi and then drive to Panajachel. Stop in Solola for a workshop with Szotzil, a mayan dance and music group performance. Learn how to make an ancient mayan instrument. Dinner in Panjachel. Overnight at the Utz Jay Hotel in Panjachel at Hotel Regis: www.regisatitlan.com
Monday, July 12: PANAJACHEL: Breakfast at Hotel and visit the Reserva Natural Atitlan, butterfly sanctuary and nature trails at the lake. Lunch. Visit the Mayan Families Project and share some time with the children. Deliver a donation to one of the seniors in the community. Afternoon freetime to explore Panajachel in the afternoon or walk to Santa Catarina and boat ride home. Dinner together. www.mayanfamilies.org Overnight at Hotel Regis.
Tuesday, July 13: SAN JAUN/PANAJACHEL: Breakfast at the Hotel and early morning boat over the lake to San Juan La Laguna. Visit the Coffee Plantation and learn about coffee production, visit the weaving cooperative using natural dyes for their work, see the murals, hike to the viewpoint and the cross. Lunch in San Juan. Afternoon visit with Nan Maria, Mayan Spiritual Leader, for a Mayan Ceremony for gratitude for the trip. Boat over to Panajachel. Overnight at the Utz Jay Hotel.
Wednesday, July 14: Depart Panajachel after breakfast, stop in Iximche, visit the site of an ancient mayan city. Lunch enroute. Arrive in Panajachel, freetime and dinner together. Overnight at Hotel Casa del Parque.
Thursday, July 15: ANTIGUA: Breakfast at Hotel, last visits to Antigua, some options, pool time. Final reflection and party to close the trip. Overnight Hotel Real Plaza.
Friday, July 16: ANTIGUA: Breakfast at Hotel, departures.